We're celebrating the new Pantone Color of the Year, Very Peri, with all things color palettes! We love Very Peri and showed off our Very Peri Spring Color Palette and now we're focused on summertime weddings. 
Summer weddings are bright, cheerful and festive. Read on to see the Very Peri Summer Color Palette we are falling head over bridal gown for!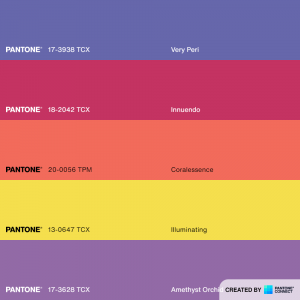 Creating and choosing your wedding color palette is an extremely fun and exciting part of planning your wedding. The colors evoke the feeling and tone you dream for your wedding day. Working with the right wedding consultant, you'll be guided through the process of choosing the right colors for your wedding. But a little inspiration never hurts!
For summertime, we paired the lush Very Peri alongside summertime gems such as bright coral, a deep pink, sunshine yellow and a true purple.
Orange and purple have been popular summertime wedding colors for years. Our take tones down the orange to a trending shade of coral. The color is not quite orange, not quite peach but still adds plenty of impact.
The vibrancy of the palette can be toned up or down depending on which colors you emphasize in your wedding decor. Loads of yellow (hello orchids!) adds fun and vibrancy. Bold pink is beautiful alongside Very Peri and looks summery and romantic.
Whatever colors you focus on for your wedding decor, feel free to go bold for your wedding bouquet. Though your wedding bouquet is a small part of the overall look for your wedding, it is highly photographed, especially alongside your white gown. Work with your wedding florist to make your wedding bouquet take center stage.
Don't hesitate to add additional shades of purple or blue alongside your Very Peri wedding color palette. The color pulls from both tones and layering shades looks beautiful in wedding cakes, fashion and decor.
If you want to tone down the entire palette, switch out the yellow for a paler shade of pink or remove the orchid for a light lavender.
Though this color scheme works well in a variety of wedding venues, the bright colors will pop especially well in architectural spaces. Blank, white spaces come alive with these bold colors. Look for a wedding venue that truly serves as a canvas for this color palette.