Finding a venue is at the top of the list when you're planning your wedding.  You need enough space to accommodate your guest list, a backdrop that fits your wedding aesthetic, and it all has to be within your price range.  Texas Old Town will check off every box on that list.  As one of Hill Country's favorite venues, numerous couples have had the wedding of their dreams there.
What Is Texas Old Town?
 Texas Old Town. rests on a 55-acre ranch in the hear of Hill Country.  Bruce and Annetta Hughson wanted to turn the peaceful and gorgeous setting into a destination for celebrations of love. They have established a reputation for gorgeous settings, wonderful amenities, and the flexibility to accommodate any couple's wedding vision. Whether you dream of a rustic boho wedding or Texas glam, the staff at Texas Old Town will go out of their way to bring it to life. 
Hosting Your Wedding
Based on old Western towns,  Texas Old Town. has a rustic aesthetic and they bring the classic charm and hospitality to their services.  Couples can rent one of their four venues for the day. This allows plenty of time for not just the ceremony and the reception, but for the bridal party to get ready on site.  Couples are free to bring in almost any vendor they choose, so if you dreamed of food from your favorite seafood joint, you aren't limited to one caterer. 
Despite all the benefits, Texas Old Town has also focused on staying affordable so that no couple is priced out of their perfect wedding. 
The Venues
Texas Old Town has four different spaces for you to host your wedding.  Each brings its own charm to your event, and with indoor and outdoor spaces, you can find something that fits your nuptial vision.
Tejas
If you picture a romantic wedding in nature, surrounded by trees, the Tejas venue is perfect for you.   The cedar gazebo brings rustic charm to the vows. A nearby bubbling stream creates an almost-musical backdrop. You won't be limited to a small wedding either – Tejas can accommodate up to 320 people in the dancehall-style structure.  After your ceremony, consider making a wish as a couple at the adorable wishing well!
Redbud
For smaller weddings, Redbud is a more intimate venue.  It features a cedar gazebo, a firepit, and two bridges crossing a little stream.  The couple can get ready for the day in dressing suites designed to resemble log cabins, adding to the cottage core vibes.  The ceremony/reception space can accommodate up to 150 people. 
Sage
Sage is for the brides who want to make an entrance.  A hidden entrance lets the bride appear like magic before walking down the aisle.  After the outdoor ceremony, guests can move on to the reception inside the dance hall.  The indoor area features exposed beams, oak floors, and crystal chandeliers for an upscale and elegant setting.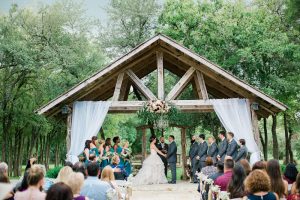 Stone
Stone takes things to the next level for the most glamorous events.  Get married under the pergola, with a view of the stunning waterfall, then move the party inside. The building features limestone walls, wrought iron doors and a dramatic staircase for the happy couple to make a spectacular entrance to the reception.Before stressing about finding a venue, schedule a tour of Texas Old Town.  After seeing their four options for wedding sites, you won't need to look any farther.  You'll love the flexibility and possibilities of the space, and how it can help make your wedding perfect.