The Texas Wedding Guide is the only local wedding magazine that covers Austin, San Antonio and the Texas Hill Country and we recently released the latest issue! Our 2021 issue is choked-full of wedding know-how, inspiration and loads of wedding professionals to get to know. Be sure to pick up your copy of the Wedding Guide and start planning. Read on to see some of the magazine highlights.
QR Codes
Before we dig into all the goodies packed between our glossy cover, let's start with the magazine's newest feature: QR Codes.  The QR Codes are littered all over the pages of the magazine. One snap takes you from the pages to your phones with extended magazine articles and links to helpful tools and resources. This gave us even more room for photo inspiration!
In this addition, we've kicked it up a notch with our Real Wedding features. The magazine is packed with Austin, San Antonio and Hill Country couples showing off months of effort in planning their weddings. There are 15 Real Weddings strewn throughout the magazine. Be inspired by their stories, their decorations and all the magic captured from their day.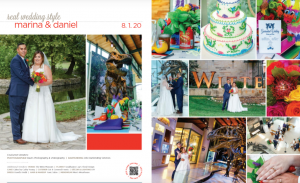 Ceremony Tips & Essentials
Head over to page 16 for some essentials on planning your wedding ceremony. We'll give you the run down on all the traditional elements of a wedding ceremony, and some insights on how to make your wedding ceremony unique and special.
Wedding Inspo – Furry Friends
Animals of all kinds are showing up more and more in wedding ceremonies, bridal photos and receptions. If you're thinking of incorporation animals into your wedding head to pages 24 & 25 for inspiration. Furry friends come in all shapes and sizes in the pages of the Texas Wedding Guide. From horses to pups and even a dinosaur (sort of).

Wine 101
As wedding receptions trend towards more formality, wine selections are taking center stage in the dining experience. The question is – where to start? If you don't know much about wine, the process can be intimidating. The good news is we have your Wine 101 primer on Page 82 ready to get you started.
Questions to Ask the Caterer
Catering will no doubt be the largest budget item for your wedding.  With such a big price tag, you'll want to make sure to ask all the right questions in advance. Follow the QR code on page 92 to learn what questions you should be asking.
Wedding Inspo – Amazing Cakes
Wedding cakes have come a long way in variety of styles, artistry and flavors. But more options mean more decisions! From elegant and traditional white wedding cakes, to fun and impressive groom's cakes, we have three pages of inspiring cake photos starting on page 108. Need even more inspiration? Follow the QR code to our full inspiration gallery.
Talking Tailoring
No wedding gown, menswear or wedding suit is perfect at the start. Tailoring ensures a perfect fit to help you both look your best on your wedding day. We have the run down on the essentials you need to know about tailoring on Page 116.
Inspiration for Photography
We have two pages of the wedding magazine dedicated to some of the cutest and most romantic photos sent to us from our photographers! From wedding day couple shots to lively wedding party pictures, turn to Page 142 to see the collection and click on the QR code for more.
Photo Booths
Photo Booths started out as a fun way to capture hilarious pictures of your guests in goofy hats, large sunglasses and big smiles. Many photo booths still incorporate these entertaining elements, but now your choices include video photo booths, mirrors and much more. Check out all the new options in our Photo Booth article on Page 154.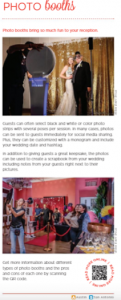 Floral Advice
Head to Page 171 for a double dose of floral information and advice. Here you'll find an article about Questions to Ask Your Florist and an article about how to select the right floral for your wedding day.
Wedding Inspo – Decor
Planning your wedding decor is one of the most fun elements of wedding planning. The decisions are many, but the process of selecting linens, chargers, lounge furniture and more is often enjoyable to many couples.  And we have three pages of decor inspiration for you starting on Page 178!
Don't have your copy yet? Check out the list of location you can find a copy of the magazine.