This week's wedding trend is all about bucking tradition!
We're seeing more and more engaged couples getting ready together on their wedding day. Hear more about this trend and why you'll want to consider getting ready together with your fiance on your wedding day.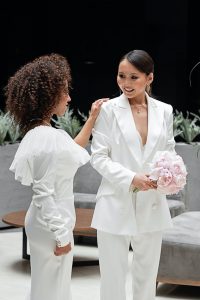 We love a good wedding tradition. The history and meaning behind each one can be fascinating and adapted to every modern wedding.
But wedding traditions are being twisted, spun and entirely ignored. Blame the changing demographic of wedding nuptials, the pandemic, societal progression…there's reasons galore!
Let's start with where the tradition of getting ready separately came from.
Long ago, in a wedding world far, far away – arranged marriages were the norm. You wouldn't see your fiance before the wedding….and likely had never even met them! We thankfully now marry for love
These days most couples avoid seeing each other the day of the wedding to avoid bad luck or to simply enjoy the first glimpse of gazing down the aisle toward their loved one.
But getting ready together also has its perks.
Consider that many wedding parties are now mixed gender and many couples same-gendered. This means it makes less and less sense to have separate camps that day of the wedding.
Having connecting ready rooms for the entire wedding party to get ready certainly amps up the wedding morning – a perfect option for couples ready to dive into the party.
Alternatively, you may choose to get ready together for the opportunity to have some quiet time before the big bash. This is ideal for couples with a small wedding party who really want to kick back and feel comfortable and connected before the wedding ceremony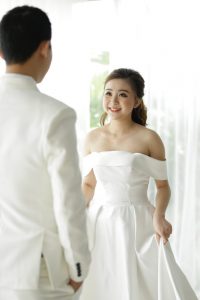 If you still prefer to get ready separately with your wedding party, consider adding in a "first look" moment before you walk down the aisle.
A first look means carving out time before the ceremony for you both to see each other…fully ready and fully in love. You'll get time to connect before the chaos and can add in time for some photography as well, sparing your timeline later on.