Securing your wedding is an essential first step in wedding planning. Start your search for the perfect wedding by learning more about La Escondida Celebration Center.
This week we sat down with owner Candy Berkley to learn more about her San Antonio wedding venue, her story and her best wedding planning advice.

What inspired you to start this company?
Long story! Most of my family worked in the hospitality industry and I spent my working years in restaurants, pubs, hotels, events and then teaching Hospitality Management at St. Philip's College. A long time friend of my husband's owned the property known as La Escondida. Many of his family and friends had married there,including our oldest daughter. At about the time that I retired early, he was ready to move on from the property. Knowing that I would be absolutely bored being retired, I asked him to lease me the property for a couple of years and see if I could make it a viable wedding venue. If I could make it work, then I would buy it from him. When we bought it a couple of years later, we did a lot of new work to it and are very happy with our family business at La Escondida Celebration Center.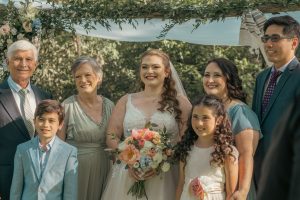 What is one favorite client story and why?
One of my favorite couples was very non-traditional and wanted non-typical things. We were very successful in making their day come true! At the end of the evening she said to me "You understood what we wanted and helped us "go with it"! This was just like getting married in our favorite aunt's really big backyard with lots of love and fun!"
What is your best planning advice or tip for couples?
Look for a venue that has the style you want and lots of services to offer you. It sounds fun BUT it is daunting to do the ceremony, reception and detailed planning yourself. Venue's have vendors in different price ranges they work with and often complete packages that are time and money savers for you.
Are you married? Do you have children? Tell us about your family.
Yes! I have been married over 30 years to retired Air Force Lt. Colonel Howard Dutcher Berkley III – known as "Dutch". Our oldest daughter and husband live in Florida with boy/girl twins, which we regularly visit! Our youngest daughter just got married and lives in our neighborhood.
What was your favorite vacation ever?
India! My mother, youngest daughter and I traveled together to India for the most amazing trip! We spent over 2 weeks in the north and southern regions of the western portion of the country. We rode trains, elephants, buggies, rickshaws, camel carts and touring cars. We went to the city of the Dalai Lama and saw the largest concrete soup pot ever! They made soup daily for over 1000 people. Although we have traveled many places in the world, we always say that India is the one place we would love to return again for a very long visit!
Learn more about La Escondida Celebration Center.