One of the biggest trends in weddings is cute and furry – including your Fur Babies in your wedding! Whether your beloved pet is central to your wedding ceremony or simply one of the honored guests, more and more couples want their pets a part of their wedding day.
But what you don't want on your wedding day is added stress! That's where The Pet Attendant comes in. Wedding Pet Coordinator Clare Sheehan offers exclusive pet wedding services and is the only provider of her kind in Austin. We spoke with Clare about her services, advice on including pets in your wedding ceremony and much more.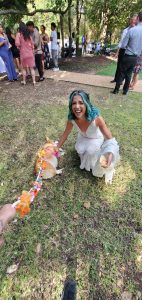 What services do you provide?
Many couples dream of including their pets in their wedding ceremony and events.
Pets are a part of the family, and with the trusted care of a Wedding Pet Attendant couples can celebrate with their pets. Venues will be happy allowing pets onsite in a stress-free way.
Our Wedding Pet Attendant services include frequent potty breaks, dressing and styling, photo assistance, aisle escorting, exercising, feeding, hydrating, and chauffeur.

What is your favorite part of your work week and why?
My work week is full of love stories, puppy eyes, and wagging tails!
My work introduces me to many couples who are pet people just like myself. I get to help them include their beloved pets in one of the biggest celebrations of their life – their wedding! From inquiry to walking the pups down the aisle, I am involved in every step of the Wedding Pet Attendant process. Do something you love and you will never work a day in your life.
What sets your company apart from similar ones in the same field?
Our Wedding Pet Attendant services are so unique, we are the only ones in our field. Including your pets in your wedding is a fast growing trend and we are proud to say we are growing with it and giving couples peace of mind during their celebration. With a Wedding Pet Attendant the guests at your wedding can enjoy themselves while we take care of the tails.
What is your best planning advice or tip for couples?
Include the entire family! Our Wedding Pet Attendants care for your pets at your wedding so you and your guests can enjoy stress-free. We will chauffeur them to and from the venue, get them dressed, assist with photos, walk them around cocktail hour to greet your guests, and even escort them down the aisle.

What is your favorite wedding tradition and why?
Dogs in weddings, what's not to love? Including your pets in your wedding allows you to include the entire family. I especially love this trend because dogs in weddings make for the best photos!
Visit The Pet Gal Attendant to learn more.