You want your wedding to be the event of the year, and that means a great bar.  How do you plan for something with so many variables and how do you make it spectacular?  This guide will help you design the perfect bar setup for your wedding to impress your guests.

Planning The Drinks
What To Offer
The first step to planning your wedding reception bar is to consider your budget.  A bar can be 10% to 20% of your wedding budget – or more! – so you should know how much you can afford in advance.  Don't worry – there's plenty of fun options for ANY price point!
Next, think of what you like and what your guests enjoy.  If your family is full of whiskey connoisseurs, you'll definitely want a few bottles available.  If your friends are known for Wine Wednesdays, you may need a few extra bottles on hand.
You'll also want to consider when your wedding is.  A winter wedding may want hot cocktails, like Irish Coffee or mulled wine.  A brunch wedding in the spring can stick to mimosas and bellinis, avoiding hard liquor altogether – and less of it, since most people won't drink as heavily early in the day.
Finally, consider how to turn those options into something special.  Source your beer and wine options from local vendors.  A microbrewery will have unique beer options that will stand out.  Wine from a local vineyard supports a small business and may be a new flavor profile for your guests to taste.
For cocktails, it has become a trend to offer a specialty cocktail.  Take that a step farther and offer two – one of the groom's choice and one picked by the bride!  If you want to limit bar costs, this is a good way to do so.  You don't need more offerings, and you'll only need two types of liquor.  This can also be easier for the bartender to handle, which means you may not need to hire as many staff.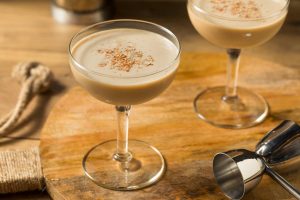 How Much You Need
Once you know what you want to offer, you'll need to consider how much of each option you'll need.  The general rule to follow is two drinks, per guest, per hour.  So if your reception is five hours long with 100 guests, you'll need 500 drinks!
For an idea of how that translates into bottles:
1 bottle of wine will fill 5 glasses.

1 keg of beer (15.5 gallons) is 124 pints.

1 bottle of liquor (750 milliliters) is enough for 15 cocktails on average.

1 bottle of champagne (750 milliliters) is 6 glasses.
How you balance those numbers depends on your guests.  If you know most people will drink beer, you may want to plan for 60 or 75% of the drinks to be beer.  On New Year's Eve, you may want some extra bottles of champagne.  Always get a bit more than you think you'll need – you don't want to run out!
Types Of Wedding Bars
There's a few types of wedding bar setups that are standard.  Different options fit different budgets, but before you settle on one, talk to the vendor you're considering working with.  They can provide an accurate estimate on the cost and can work with you to make your boozy vision possible.  
Elite Bartending Services is one of San Antonio's favorite bar vendors.  They can provide the entire set-up, including the bar itself, glasses, cocktail ingredients, and a trained and licensed bartender!  While planning, you'll work with one of their event coordinators to iron out every detail, including your specialty cocktail.
Limited Bar
A limited bar often serves only beer and wine, or perhaps one or two preselected cocktails.  These are a great way to offer an open bar to your guests without letting the cost get out of control.  Just make sure there's enough difference in choices to suit different tastes.  One beer choice,a red wine, a white wine, and a cocktail is more than enough – especially since with soft drinks available, your guests can always just request a shot be added to their soda as well!
Cash Bars
Cash bars are often chosen to minimize drink costs – while you may need to cover a minimum and the cost of labor, your guests will pay for each drink they consume.  If you opt for a cash bar, let your guests know in advance.  Otherwise, they may not have cash on them, which can be very frustrating.
Drink Tickets
Some couples chose to balance the cost of the bar tab with drink tickets.  In this case, each guest gets a certain number of tickets, commonly two.  Each ticket is worth one drink.  If they use their tickets and want another beverage, they pay like they would at a cash bar.  Many couples opt for this to limit the chances of people getting out-of-control.
Open Bar
The open bar is the option often favored by guests.  Your friends and family will be welcome to as many drinks as they want!  For the bill, either you will pre-set a budget or the bartender will simply track consumption and present you with a final total afterwards.  That number can be very high, which is why having a limited menu can help you manage costs.
The Non-Alcoholic Option
A dry wedding doesn't have to be boring!  If you don't want alcohol at your wedding, you still shouldn't skip the bar.  Instead, serve fancy mocktails – your guests will still feel spoiled but there's no risk of a fight breaking out!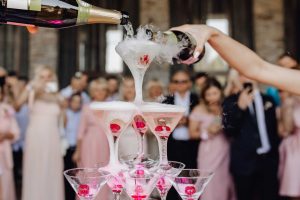 Creative Options
Your wedding is all about you and your personality should be in every detail – including the bar. When you start thinking about your bar setup, consider ways to really make it suit who you are as a couple.
Whisky Tasting
This is a really fun option if your friends and family enjoy sipping whisky.  Get a few different types – bourbon, scotch, Irish whisky, Canadian whisky, etc. – and display them creatively with some snifters, a few garnishes, and maybe even a cigar bar.  Also lay out cards pre-printed with a list of the offerings so that guests can rate each option!
Self-Service Bar
Trying to keep costs low?  Maybe your wedding is just a bit too casual for a bartender.  Try a self-service bar.  You can easily build one to fit your theme – out of a board and two wine barrels for a rustic wedding, or upcycle a vintage steamer trunk if you two are world travelers.  Then, lay out the different ingredients – bottles of liquor, mixers, garnishes, and a bucket of ice.  You can even display a cocktail recipe or two to give your guests ideas.
For an even easier option, consider premixing drinks in mason jars.  You can display them in galvanized steel garden types for a warm, friendly vibe – and since the drinks are already made, the line for the bar won't get backed up!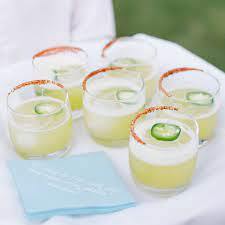 Margaritas!
If you're a fan of tequila and dreaming of a honeymoon on the Mexican Riviera, consider having your specialty cocktail be margaritas!  The Margarita Man is a local bar company offering over 20 different flavors of margaritas – and they even offer non-alcoholic options for kids or people who don't want to imbibe!  It's a great way to bring a tropical vibe to your event and balance your bar tab with a specialty cocktail.  You may even be able to talk them into blending two flavors to represent you, the couple, coming together in marriage.
Pro Tips
Interview your bartender.

Negotiate with the brewerie, vineyard, or liquor store.  Often, you can get discounts by buying in cases.

Coordinate with your bartender on when last call will be in advance.  This helps make sure that they can handle the line and that you don't run over your time at the venue.

Most mixed drinks don't require top-shelf liquor.  Don Julio 1942 is fabulous for sipping, but it's wasted in margaritas.  Opt for something more affordable so that you can splurge elsewhere.
Arrange a spectacular bar with our preferred bar service vendors.  Whether you opt for a cash bar or an open bar, whether you choose fancy mocktails or free-flowing booze, your bar can be just as special as the rest of your wedding.