For Austin couples looking for an ideal downtown wedding venue, be sure to put the Bob Bullock State History Museum on your site visit tour list.
This beautiful museum has several event spaces to choose from, with capacity for larger weddings of up to 350 guests.

Bob Bullock State History Museum Weddings
From the moment you arrive for your wedding site visit at the museum, you'll be in awe. The venue's grandeur and details are stunning.
Your dedicated event coordinator will walk you through each venue space. You'll discuss options for set up and decor, as well as reception timelines and policies.
Grand Lobby Weddings
The Grand Lobby of the Bullock State History Museum is an iconic event venue location in Austin.
Descend the spiral staircase to enter the Grand Lobby. The rotunda is wrapped in large, impressive windows that create a beautiful backdrop for your wedding reception. This is a great wedding venue for couples who love a modern look and architectural details. You'll enjoy the terrazzo mosaic and granite structure.
If you are looking to host a larger wedding, the Grand Lobby may be the perfect location for your reception. The space allows for up to 350 seated guests for a wedding reception
Should you want to use the Grand Lobby for your wedding ceremony instead, you can comfortably seat 525 guests for your ceremony.
Bob Bullock Atrium Weddings
The Bob Bullock Atrium is a unique event space with a great view of the terrazzo mosaic and the Lone Star Plaza. The arched layout features a statue of Bob Bullock along a white wall perfect for uplighting.
If you're looking to host your wedding reception in the Grand Lobby, the Bob Bullock Atrium pairs ideally as your ceremony space.
However, the event space can be used for your cocktail hour, reception or ceremony.
This event space can host a seated wedding reception for 200 guests, or your ceremony of up to 225 guests.
Austin Room Weddings
The Austin room at the Bob Bullock State History Museum known for its versatility.
If you're seeking an open space that you can dress up or down, the Austin room could be a great fit for your wedding. This modern event space can host up to 350 guests for a seated wedding reception.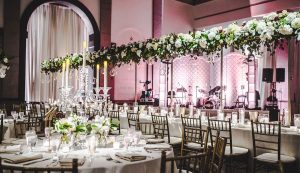 Catering Options at the Bob  Bullock State History Museum
For weddings at Bob Bullock State History Museum, your rental fee includes 4 hours of rental time between 6PM – Midnight, an onsite venue manager, security staff and parking.
The rental does not include catering and Bullock State History Museum does not provide onsite catering. However, to make hiring a caterer for your wedding easy, the museum has a list of exclusive catering partners. Choose from several catering options.
All of the caterers on the museum list are qualified and familiar with catering events at Bob Bullock State History Museum. This means you can be confident in selecting one of these wedding catering professionals. In addition, these select caterers can provide tables, chairs and linens.
In addition to securing your food from an outside caterer on their list, you'll also need your caterer to provide all the alcohol for your wedding. They'll ensure you are following all TABC Guidelines for your wedding.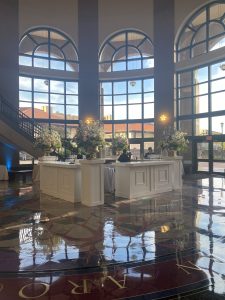 Convenient Amenities at the Bob Bullock State History Museum
The Bob Bullock State History Museum is not only a beautiful wedding venue, but has a great location and excellent amenities.
When hosting a wedding in downtown Austin, you'll have plenty of hotels nearby for all of your overnight guests. There are many hotels within walking distance to the museum.
For locals driving to your wedding, the museum offers an attached garage with free parking. You don't often find that for a downtown wedding!
Your event coordinator at the museum is available to assist with several vendor recommendations. In addition to guiding you to the right caterer, they can provide information on decor rentals, audio visual, wedding planners and more.
When you're searching for the right wedding venue in downtown Austin, be sure to give the Bob Bullock State History Museum a call! See more pictures of their weddings and learn more about venue here.