Brunch – it's not just for bridal showers anymore!
As Saturday nights are booking up for both short-term and long-term dates, couples are looking at alternative options for their wedding reception. Brunch weddings make for an excellent alternative. It's inherently festive, and can bring garden-party vibes to your wedding reception. Your brunch wedding reception can be elegant and sophisticated, or relaxed and cheerful. We have all the details on how to make a brunch wedding reception flawless.
Consider Your Budget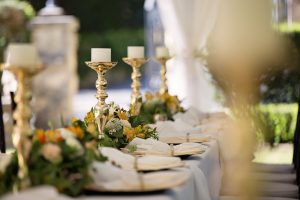 Creating your wedding budget is the first and most important step to begin your wedding planning. 
Don't assume that hosting a brunch wedding reception necessarily means you'll be spending far less money. Items such as the finery, floral arrangements and consulting fees will likely all remain the same.
As you search for a wedding venue, you may find special rates for Sundays. This is especially true if the venue does not have their own catering. What you may not find is special pricing for Saturday mornings. Given how long it can take to set up a wedding, most venues cannot successfully host two weddings in one day. Likewise, some vendors such as decorators may end up costing you more. For example, a decorator may have to pay his staff overtime to set up early on a Sunday.
You could see some savings if you opt for a limited bar, say only offering mimosas and Bloody Mary's. Additionally, the length of your reception will often be shorter with a brunch wedding. If you purchase even a full bar package by the hour, you'll see savings simply because of the shorter time frame.
Depending on your final menu choices, a brunch menu may be just as or nearly as pricey as a dinner. For example, if you choose steak and eggs for your main entree, expect to pay a premium. However, be sure to ask about portion sizes. That same steak may be served as a 6 ounces lunch size portion, instead of an 8 ounce dinner size. In that case, you can expect to pay a little less.
And speaking of your menu selection…
Menu Selection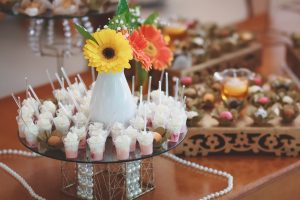 There are many things to love about brunch, and the food is certainly one of them. A well-planned brunch reception will incorporate breakfast elements, alongside heartier options. 
To avoid hungry guests leaving too early, be mindful this is brunch…not just breakfast. If you only offer muffins and mini-quiche, guests will head out pretty quickly for a bigger meal. 
Just as in an evening wedding, your options for meal service are primarily plated, buffet style, stations or family style. Stations and buffets will give your wedding a less formal feel, whereas a plated meal served in courses lends for more formality. 
A plated brunch wedding menu can be just as elaborate as an evening meal. Think long, elegantly decorated tables with a multi-course meal served in several stages. A crisp, cold cantaloupe soup, followed by a spinach strawberry salad begins to prime the palette. Petite individual frittatas may follow, served alongside scones or muffins. Round out your plated meal service with pork tenderloin and grilled asparagus for a full-service menu. Keep in mind the longer your meal service, the longer the overall reception so be sure to get your timetable down right.
Stations lend a garden-party style feel to your wedding reception. Guests can mix and mingle while light music plays in the background, grazing as they see fit. Piles of pastries can reside in one corner, charcuterie in another. This is a great opportunity for your chef to get creative. Look to find a balance with menu items that are fulfilling, unique and easily consumed while talking with others.
Keep in mind, stations utilize small plates rather than large dinner plates. You'll want to ensure your stations are spread out appropriately to avoid guests lining up from one end to the other, piling up their plates. Having enough during your cocktail hour will help with this, as hungry guests will be more satisfied. 
Buffets can be a challenge at a brunch wedding. Again, you don't want to over-fill your guests with creamy pastas and heavy meats. Standing in a line, even a short one, can dampen the energy of the event. 
Don't Skip the Cocktails
Cocktail hour is more than just a chance for your guests to mingle and relax with a drink. The cocktail hour plays an important role in giving your guests something to nibble on while they are waiting for you to take your wedding photos.
Depending on the formality of your wedding, this is the perfect moment for a Bloody Mary Bar or passed mimosas. Give your guests something light to eat as well. Passed appetizers work equally well before a brunch reception as they do in the evening. Though a more casual option, a fruit and cheese display makes a nice starting point.
You'll want to skip heavy items such as bacon-wrapped shrimp this time around. This may be the first bite they've had for the day, so light bites are the way to go. Chilled soups, waffle bites, and deviled eggs all make excellent starts to the meal.
And whether it's presented with a server or simply on display, certainly don't forget the coffee!
Musical Options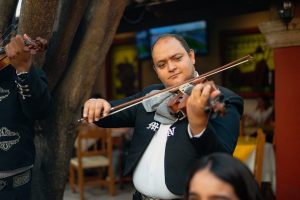 Music choices are just as crucial in setting the tone and mood for your brunch reception as they would be for an evening affair. And hosting a brunch event doesn't necessarily mean zero dancing at your reception.
Your ceremony music will likely be much the same no matter the timing of your wedding ceremony. Harpists, guitarist and string music are all appropriate for a daytime wedding ceremony. If your ceremony is at the same location as your reception, your musician may also be ideal to continue playing throughout the meal portion of your reception.
Many couples still want their first dance, no matter the time of day. This is a good opportunity to signal to your guests that the reception is transitioning to the next phase. A good DJ can be just as effective in bringing people to the dance floor in the afternoon as they would be in the evening if that is a part of the timeline you want for your reception. Alternatively, a brunch wedding is a great time to bring in a unique band that would otherwise feel awkward for a traditional evening event. Big band musicians or a zydeco band just might do the trick.
The Timeline
The timeline is crucial to execute a well-paced brunch wedding. At traditional evening weddings, guests typically know the drill and what to expect. At a brunch wedding, you'll want to guide your guests through the day. 
Timing for the actual meal itself will be the biggest factor in your overall timeline. A brunch meal works equally as well at 11:30am as it does 2pm. The ceremony time indicated on your invitation will help signal to your guests a possible meal time, helping them plan.
Additionally, you'll want to consider what happens after the meal. Avoid the "what's next?" feeling after the meal is over by using subtle cues. Having the toasts at the end of the meal gives you an opportunity to announce what happens next over a microphone. You can let guests know that there will be dancing at this point. 
Alternatively, having less expectations means you can delight and surprise your guests. Dancing is the expected activity, but there are a host of other options to keep the party going. Relaxed lawn games, karaoke, and interactive performers can keep your reception lively, while being totally unique.
Sample Brunch Wedding Schedule
11:00AM Ceremony
11:45AM Cocktail Hour
12:45PM Brunch Service
2:15PM Wedding Toasts
2:30PM Dancing or Alternate Activities
4PM Cake Cutting
4:30PM Reception Concludes