A woman and minority-owned business, Blanca's Cake and Catering has been a go-to wedding pro in San Antonio for more than 25 years.
Perhaps that's because of their mouth-watering and beautiful wedding cakes that somehow taste straight from the oven fresh for every wedding. Perhaps it's because their catering options have a delicious homestyle flavor that guests love, at budget-friendly prices that couples love.
But we think the real secret to success is Blanca herself.
Blanca began her business with wedding cakes. And to this day, Blanca's cakes is well-known for delicious, moist and beautifully decorated wedding cakes.
Exceptional Custom Service
However, it's Blanca's approach to customer experience that truly sets her and her business apart.
Blanca and her team take care to ensure a relaxing and enjoyable experience for all couples. From the first phone call to the final delivery, each couple is treated with respect and patience. Couples repeatedly give Blanca's Cake and Catering high reviews, mentioning attention to detail, great communication and the willingness to go the extra mile.
And you not only get great service, you get affordable pricing as well.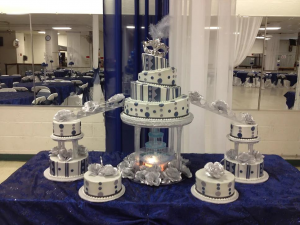 Blanca's Wedding Cakes
A great wedding cake starts with great ingredients.
Blanca's is known for sourcing fresh, high quality ingredients that deliver great results. Your wedding cake will taste fresh and spongy. The exquisite result is simply delicious.
Blanca's Cake and Catering may have been in business a long time, but their designs are as modern as they come. From naked wedding cakes to the pressed floral look, Blanca and her team are knowledgeable about the latest trends and techniques in wedding cake design.
Groom's cakes are a fun way to add some playfulness to the cake table. Popular styles showcase favorite hobbies, movies and sports teams for a truly personalized display.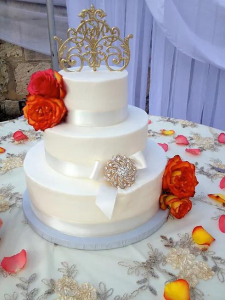 Wedding Catering with Blanca's
Blanca may have started with cake, but it wasn't long before she began offering full-service catering as well.
Blanca's Cake and Catering features home-cooked style with popular dishes such as Chicken Parmesan, Beef Lasagna, Carne Guisada and of course Texas BBQ! The dishes are rich in flavor with portions to satisfy every guest. Work with Blanca's on every wedding event from your rehearsal dinner to a post-wedding brunch.
Just like their cakes, Blanca's sources their ingredients carefully to ensure a delicious final product. They can provide plated dinner service, tableside catering and buffets.
In addition to the great flavor, couples love the great prices. Blanca's Cake and Catering is known for affordable prices and a flexible approach that helps every couple meet their wedding budget.
Reliable Customer Experience
Choosing your wedding baker and catering service can be tricky. With items like wedding linens and your venue, what you see is what you get.
With your wedding cake and catering, you have to rely on the trust that the final execution the day of the wedding meets your expectations.
And with review after review, Blanca's Cake and Catering is known to exceed all expectations. After years in business, you know you are hiring a reliable and reputable wedding professional.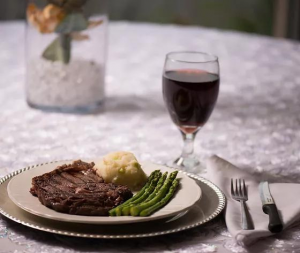 Wedding Decor Options for Couples
People know Blanca's Cake and Catering for their delicious catering options, but the company's wedding services don't end with food.
Blanca also assists couples that book catering with her on their wedding rentals and décor. She exclusively works with wedding professionals that have her same dedication to service, quality and reasonable prices.
Couples love that they can simplify their wedding planning by working through Blanca to get all their wedding essentials from catering to decor. This "one stop shop" experience makes wedding planning easy.
Blanca assists in creating a cohesive look and experience with items such as linens, floral arrangements, lighted arches, chocolate fountains, and much more.
At Blanca's, you'll have their full team to work with you on every detail. Whether booking your wedding cake or a complete package, you'll get personalized attention and support.
Learn more about Blanca's Cakes & Catering and call to book your consultation today. You don't want to miss talking to this great wedding pro!