There's the bridal shower theme ideas you've heard of and been to. Then, there's our bridal shower theme ideas! We put together a list of unique bridal shower ideas to get the inspiration going for your bridal shower.
Whether it's coed or just for the girls, adding a theme makes a bridal shower all the more fun. Need help on creating your wedding registry? Check out our Wedding Registry Guide here.
S'More Love Bridal Shower
For bridal showers hosted in the wintertime, a flannel and campfire inspired theme is a fun departure from the typical garden tea time bridal shower.
Encourage guests to wear flannel and either host the event outdoors with a large fire pit, or have it indoors with the fireplace going. For decor, think pinecones, flannel motifs and cozy blankets. Warm mugs of Irish coffee and of course S'more kits are essential!
Star Crossed Bridal Shower Theme
The sky's the limit with this bridal shower theme! Get celestial with a star-themed bridal shower. Go classic astronomy or put a zodiac spin on the theme.
This theme calls for deep blue and gold decor with plenty of stars. Add a "written in the stars" sign and serve up star-shaped golden cookies.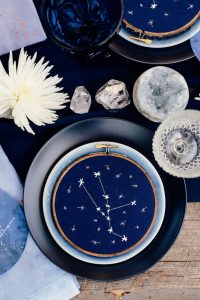 BrideChella Shower
For festival-loving, outdoor music enthusiasts a BrideChella themed bridal shower just might be perfect!
This theme is all about the outfits! Get the look with flowy dresses paired with motorcycle boots and glitter makeup. Create flower crowns as an activity or hand out as a favor. Set up outdoor tents with large pillows and splurge for a hookah bar for true festival feels.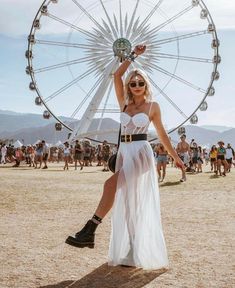 Let Them Eat Cake Versaille Bridal Shower Theme
Paris-themed bridal showers are here to stay. But if you want something unique, switch it up for a Versaille Bridal Shower theme.
Go opulent for everything with gilded details and delicate place settings. We love this theme for a Springtime party with plenty of pastel decor. Hand out lace fans for a photo op and create an impressive dessert bar with macarons, bon bons and of course mini cakes!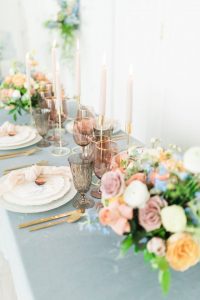 Nacho Average Bridal Shower
For Nacho Average Bride – a taco bar/nacho bar/Fiesta theme is perfection. If you're looking for a fun but casual theme, this is a great one for a bridal shower.
Setting up the food is easy with a street taco station and a nacho bar on the ready for guests to choose their own. Margaritas are a must! There are several variations on this theme – along with a variety of color schemes for decor. You can go classic bright Fiesta or get dessert vibes with pale colors and cacti.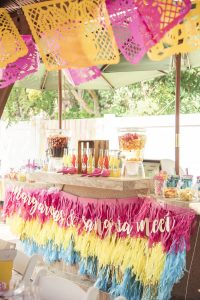 Donuts & Diamonds Bridal Shower
Breakfast lovers – this one's for you! If you're looking for a simple bridal shower idea, the Donuts and Diamonds theme is easy to put together. Opt for gourmet donuts stacked on pedestals, create a donut cake or display with a donut wall. Finish off the decor with mini "diamonds" and glittery details.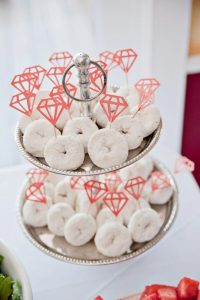 Bridgerton Bridal Shower
Bridgerton has given us lots of wedding inspiration and makes an ideal bridal shower theme.
You can design this theme as a twist to the popular tea party bridal shower theme, or turn it into a luncheon or brunch. We love that the theme is trendy but with classic decor that works perfectly for a bridal shower. This theme is great for indoors or outdoors. Think delicate tea cups, pastel colors and of course loads of lilac!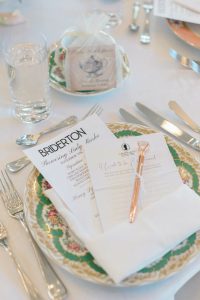 Derby Day Bridal Shower
Derby Day is a fantastic and creative bridal shower theme, and ideal if your event is hosted in May! Bring on the "Mint to Be" Mint Juleps as the bride is "Off to the Altar!"
This equestrian themed bridal shower means pretty Spring and Summer dresses and of course festive hats. Create custom hand-held fans with the couples' name and set up a crazy hat photo booth.
This theme can go as classy or as campy as you like!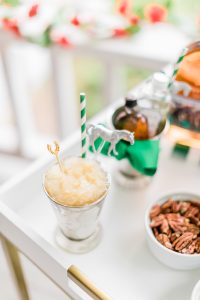 Birds and The Bees Bridal Shower
This fun theme is easy to recreate into your own vision. Great for any time of year, use sunny yellows and golden honey tan as your color inspiration. Decorate with honeybee hives and birdcages.
We love that this theme works well for a breakfast, brunch or luncheon. Serve honey cakes and bird's nest deserts. Little jars of honey or bird seed packets are the ideal party favor.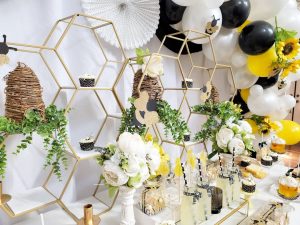 Trimmed with Love Bridal Shower
If the nuptials are near the Holidays or your bridal shower is in the winter, a holiday themed bridal shower is perfect.
For a Trimmed with Love theme the idea is for guests to bring tree ornaments and seasonal holiday decorations to fill the couples new home. Coordinate with a theme such as rustic country or a color palette such as silver and blue. By the time the shower is over, the bride will have all she needs for a beautiful new tree filled with memories.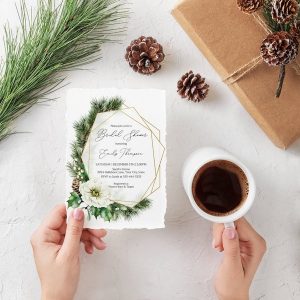 Palm Springs Bridal Shower Theme
Bridal showers based on destinations are transportive, and we love being inspired by new places. For a summertime bridal shower, think outside the travel box and host a Palm Springs bridal shower.
Bright pink, orange and green decor is a must alongside giant Palm tree leaves. Add in pink flamingos for extra kitsch.
For catering, you'll want to keep the food light and the drinks cool. Fruit skewers, light bites and cold, fizzy drinks are just what you need to complete the theme.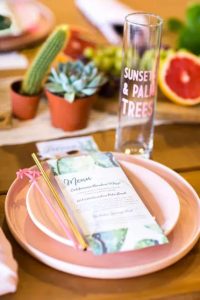 Library of Love Bridal Shower Theme
A literary bridal shower is a truly unique bridal shower idea, with loads of cute options to play up the theme. A great theme for bookish brides!
Nothing will beat a bookmark invitation in this case. For decor think wooden cabinets and card catalogs, vintage typewriters and stacks of hard-bound classic books. A breakfast bridal shower would be great for this theme, as nothing goes better with books than coffee!

Swiftie or Beytime Bridal Shower
Is the bride obsessed with Taylor Swift? Or does she worship at the House of Bey? Whichever music idol the bride loves can also make a great bridal shower theme!
Play up the theme concert-style with backstage pass invitations. For food, go for concession stand style or serve up the star's favorite foods. Add some pop star trivia or karaoke for fun.
And the playlist? Easy.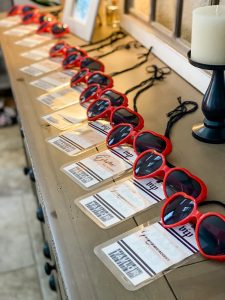 A White Party Bridal Shower
When the heat is up a white party is where it's at! Great for a summertime bridal shower – a white party is pure fabulousness. For brides and bridesmaids looking for more of a party and less silly games, a white party is your answer.
Great for co-ed shower as well, you'll want all white decor with perhaps a kick of metallics. Host the event poolside for extra oompfh!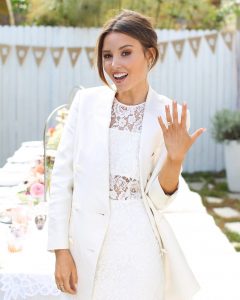 Pajama Party Brunch Bridal Shower
A Pajama Party themed bridal shower is the perfect choice for brides who love to brunch. Host this style bridal shower on a Sunday to cap off a great weekend!
Deliver a bag of slippers along with your invitation or have the details etched on a custom champagne flute. Mix breakfast-style foods such as donut towers and muffins alongside charcuterie and savory foods. And be sure to have a mimosa bar!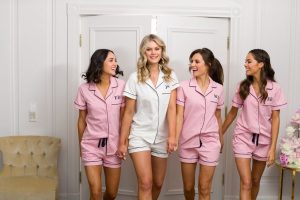 Petting Zoo Bridal Shower
For the ultimate animal lover bride, a petting zoo bridal shower is pure perfection!
Great for cooler weather, choose an outdoor location and hire a petting zoo. These companies can bring a complete petting zoo to you with baby goats, bunnies and lambs. Finish out the farm look and feel with al fresco dining.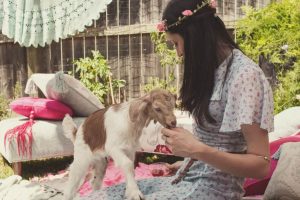 Amalfi Coast Bridal Shower
An Italian-themed bridal shower is a great option for foodie and wine-loving brides. Make the theme extra-special by focusing on a region of Italy, like the Amalfi Coast.
Go for blue and yellow decor and plenty of lemon details. And of course, you'll have plenty of options for catering. Antipasto to rich pastas to risottos – the focus on this theme should be all in the food.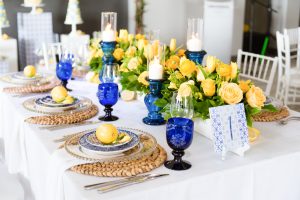 Before you get planning your bridal shower, you'll need to start with choosing your wedding party. Check out our guide on How To Choose Your Wedding Party here.