Not every bride falls in love with her wedding venue so much that she decides to not just rent it – but buy it.
Fallon Allison had her wedding reception at One Eleven East in 2018. The modern, industrial space was perfect for her wedding style. After hosting her reception at this beautiful wedding venue, Fallon knew she not only wanted to be a bride, but a wedding venue owner. In June of 2021, she became the proud new owner of One Eleven East. Under her care and leadership, One Eleven East has grown into one of the premier venues in the North Austin area, supported by a passionate team that truly loves weddings and their venue.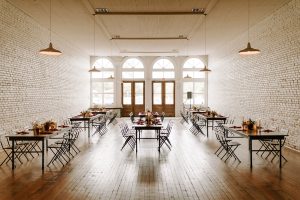 One Eleven East stands out as a unique wedding venue for the Texas area. In a sea of country-elegant Hill Country barns and ranches, this historic, industrial-style space opts for a modern touch.
With its clean, open design, One Eleven East offers couples a blank canvas that they can transform into their own vision. Every wedding in this space looks completely unique, with each couple's style set against the whitewashed brick walls and gleaming wood floors.
Located in the city of Hutto, One Eleven East is closer to Austin than you might think. If you're looking for a venue away from the hustle and bustle of the city, but not too far from Austin's many amenities, One Eleven East is the perfect spot. With just a short 20 minute drive, you and your guests will get out of the city and into the quaint streets of Hutto; enjoy the small town feel without giving up the convenience of the nearby city.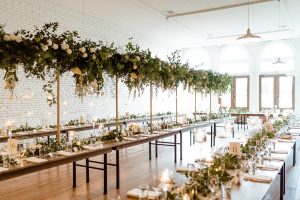 You won't find another venue like One Eleven East. Built in 1893, the wedding venue sits on historic East Street. This block of classic buildings feature their own downtown flair with facades that reflect the Hutto of the past, while being completely modern on the inside.
When you walk into the front doors of One Eleven East, you enter the main wedding reception area. You may see the long, wooden tables and bistro-style chairs that come with the venue or a wide open space ready for you to customize.
The built in bar in the back of the room creates a focal point to leave as is or add personalized decor. During the day, light streams into the expansive front windows, and at night, the soft overhead lighting creates a moody atmosphere.
The long white staircase that leads up to the private suites is the perfect backdrop for a grand entrance into the reception hall. Upstairs are two fully furnished suites, available for couples and their wedding party to get ready in or for couples to share a private cocktail hour or dinner away from the rest of their guests.
The Skylight room is just off the main reception room and is ideal for your wedding ceremony. The historic skylight, original to the property, adds architectural detail and natural light. There are many different options in this space to use as the backdrop for your ceremony.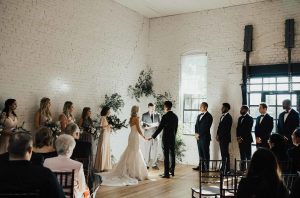 For your cocktail reception, or as an outdoor ceremony spot for intimate weddings, One Eleven East features an outdoor courtyard, just off the Skylight room. Through the beautiful glass doors, the courtyard feels like an oasis with a variety of greenery. Utilize the seating onsite or bring in your own for a custom look. At night, the outdoor bistro lights create a dreamy outdoor space for guests to enjoy throughout your event.
One Eleven East comfortably holds 150 guests for a wedding ceremony and reception, while also hosting intimate weddings for smaller guest counts. The ideal wedding starts with a Skylight ceremony, followed by a courtyard cocktail hour, wedding reception dinner in the main room, and ends by dancing the night away back in the Skylight room.
In addition to being a beautiful wedding venue, One Eleven East has several amenities that make hosting a wedding there flexible. You get a complete 12 hour rental time with no other events competing for time and attention nearby. Parking is free at street level and at several lots nearby.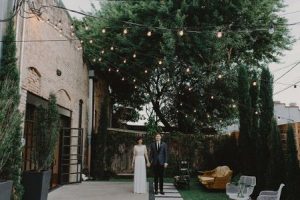 Couples love that there is a large list of caterers that can be chosen for weddings at One Eleven East, in addition to bringing in your own alcohol. With an open vendor policy, couples are able to bring in whichever vendors they'd like to be a part of their wedding day. And for couples who don't know where to start, the venue offers a list of recommended vendors who they know will provide excellent service and make your event extra special.
When you rent One Eleven East for your wedding, you also have the option of utilizing the distinctive furniture pieces available onsite. This includes not only the main tables and chairs but a variety of small tables, fun seating options, decor pieces and more.
For couples looking for a distinctive event space, flexibility and a unique location, One Eleven East just may be the perfect wedding venue.
Visit the One Eleven East website for more information and to book your tour today! Check out the One Eleven East profile to learn more details.