When searching for a wedding DJ you want to make sure your DJ is knowledgeable with solid experience and great customer service. And you can't get a better combo of those three than with DJ Airwave Dave!
This week we sat down with David Krieger of Airwave Dave Entertainment to talk about his decades long experience in the industry, hilarious wedding stories and what makes his company so unique.

What services do you provide?
I provide mobile DJ, piano and officiant services for weddings and receptions and have performed at over 1500 functions since 1982! I also does piano bar singalongs as well as acting as a resource for the provisions of live entertainment for wedding receptions and corporate events.
What sets your company apart from similar ones in the same field?
I started my mobile DJ business in 1982; however, the moniker came from my early days in radio, starting in college FM in 1968. My knowledge of music and level of experience, both on and off the air and as a professional musician, sets me apart from similar services because I have 40 years of experience in dealing with all kinds of scenarios and events at weddings and receptions is by far what makes him successful at helping his clients achieve the best possible outcomes.

What is one favorite client story and why?
I have to reflect long and hard on this one because there have been so many clients that have gone above and beyond the level of caring to insure their function was a huge success. It would have to be the Cooney-Judkins reception at The Club at Sonterra because the bride's mom, Judy Cooney, is an event planner. That should tell you right there that this was to be no ordinary wedding reception and because of her involvement, no one was left out of the fun and excitement!
What's the funniest thing you've seen happen at a wedding?
The one thing that stands out actually happened at Granberry Hills during an afternoon reception when the bride and groom went to cut the cake and feed each other the slice they carved out of the cake. They had the best man and maid of honor standing over each other's shoulder leaning in to watch and both the bride and groom reached over each other's shoulder and smooshed the cake into the faces of the best man and maid of honor, literally covering their faces in cake and frosting. That drew quite the reaction from the crowd, to the complete surprise and shock of the best man and maid of honor. Better than a food fight!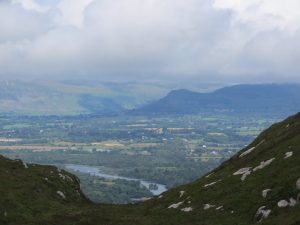 What was your favorite vacation ever?
August of 2019, B.C. (before COVID), I took my wife Linda to Ireland for her birthday present and they spent 13 days there (and didn't want to leave when it was all said and done). It's a beautiful country with centuries of historical perspective, one we remember forever!