Just because we're busy with the holidays does not mean the wedding planning stops for couples! November brought wedding events from sales to open houses, and as always we were there to cover all the details.
Read more about November's wedding events and check out our Events page to hear about not-to-miss upcoming events in the future.
Texas Old Town
Open Doors for You + Yours
11/28/21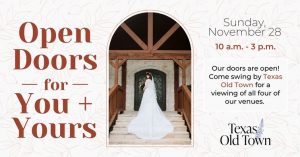 Couples and their friends and families mixed and mingled on November 28th at Texas Old Town for their end of the year Open House. The Open Doors for You + Yours event was hosted just after the Thanksgiving holiday so visiting brides and their families could extend their enjoyable weekend with a visit to this beautiful Texas Hill Country wedding venue.
Texas Old Town features four stunning venue options for your wedding. Couples took in the beauty and got ready to book their wedding at this fantastic wedding venue.
Learn more about Texas Old Town and follow them on social media to stay tuned for the next Open House.
Lace & Grace Bridal Boutique
Bridal Gown Sale
11/30/21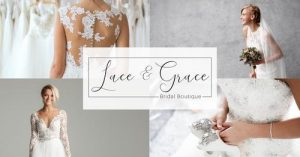 From November 26th – 30th Lace & Grace Bridal Boutique closed down the year with a huge bridal sale event.
All special order wedding dresses were $200 off and the entire store from rack dresses to veils to shoes were 20% off!
To give their brides detailed attention and elevated experience, Lace & Grace works exclusively through appointments only. Their calendar was packed with brides and their entourage snapping up deals and beautiful gowns.
Find out more about Lace & Grace Bridal Boutique and keep in touch to hear about their next big sale!