Engagement rings have been a symbol of commitment for years. They're a declaration to the world that you're taken, that your relationship is moving to the next level.
These days, proposals can be full-scale productions. Manicures done. Cameras rolling. The ultimate social media post completed with accompanying hashtags.
But that's not every couple. And the typical ladies-only history of engagement rings just doesn't fit our modern views on marriage.
With that in mind, we have a few new ways couples are showing off their engagements that you just might want to steal.
Dig into the history of engagement rings, and the truth is far from romantic. In Roman times, women wore rings symbolizing they were "under contract" with their betrothed. Gold rings were highly popular, but the rings could be made from ivory, copper or iron.
Diamonds became a popular addition to engagement rings in the late 1940's. You have De Beers to thank for that. Their 1947 engagement ring advertisement put a price tag on what men should be spending on an engagement ring (two months salary.) And they were the first to declare, A Diamond is Forever.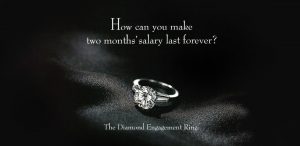 As our concept of marriage has changed, so has the tradition of engagement rings. Some couples skip the tradition altogether, others look for engagement ring alternatives.
We love a ring that doesn't scream "engaged bride." More and more couples are opting for rings other than the classic diamond band. Stones that represent the month you met, rings with infinity symbols or sailor knots, or colored diamonds are all great alternatives.
Family heirloom rings show your fiance they're accepted not only into your heart, but into the family.
And one beautiful ring may be all you need. Buying a ring that serves as both an engagement ring and a wedding ring is just as acceptable. If that's the case, you may want to buy a simple band later on if you like to always wear a ring. Activities like working out and international travel may mean leaving your fancy ring at home and just wearing a band.
That being said, you may want to skip rings altogether. More and more couples are opting for couples engagement jewelry.
This could indeed be matching engagement rings you both wear. We love his and hers, his and his and hers and hers engagement rings that complement each other without matching exactly. Still, your engagement jewelry could be something new altogether. Pendant necklaces or bracelets engraved with the day you met or got engaged are great options. Or you may create a custom piece of jewelry you both have a hand in designing and that is truly unique.
For some couples, jewelry of any kind doesn't "spark joy." If that's you, you've got options.
Getting inked means far more to some couples than a piece of jewelry. Matching tattoos, whether on the ring finger or elsewhere, means lasting devotion and commitment. Many couples love ring finger tattoos. But you can also go with infinity symbols, names, wedding date, puzzle pieces – the options are endless!
Let's say you don't care for jewelry or tattoos. You can still make a meaningful commitment that signifies your engagement. For nature lovers, plant a tree or buy an engraved bench at a local garden or nature site. How cool to propose while sitting on your own custom stone bench you can visit for years to come!
You can always pop the question with a pair of plane tickets instead of a ring. Adventurous couples may prefer to head to far-flung or romantic destinations instead of spending money on jewelry. For them, the memories are worth more.
Some engagements are best solidified with a commitment to your future together. Making a down payment on a house may not seem romantic, but it is significant. Practical couples may love this idea. Philanthropic couples may want to signify their moment with a sizable charitable donation together in their name.
A simpler commitment gesture? Get a pet! You may not be able to put your new fur baby in a ring box, but who doesn't love the idea of a puppy popping out of a box with a big red bow?!