Our last installment of Very Peri color inspiration takes a look at winter wedding inspiration – cozy bridal fashion, warming decorations and sumptuous linens. 
In truth, South Texas winter weddings aren't always enveloped in chilly, cold weather. You're just as likely to have sunshine and modest temperatures as you will cold winds and ice. But that doesn't mean Texas brides don't love the Winter Wonderland look. 
Read on to see how we created a beautiful Very Peri winter wedding color palette and get inspired for your trendy winter wedding.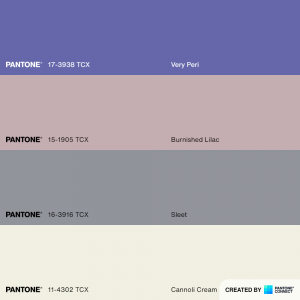 The Color Palette
When couples think of winter weddings, the first images may be filled with rich gem tones, holiday feels, and piles of white. And all of those things can definitely work for your winter wedding decor.
But for our Very Peri winter color scheme, we went with a lighter touch. Each tone brings out the subtle hues of winter. The bluish purple of the snow. The pale lilac of a winter sunset. The steely hues of a gray, winter day. We anchored these understated colors with a delicate cream, instead of stark white. The overall effect is dreamy, delicate and very chic.
Winter, But Make it Fashion
Our winter color board immediately got us thinking winter wedding fashion. The way to mix and match these colors seem endless, and you'll have plenty of fun deciding on fabrics and style for your winter wedding.
Bringing a steely gray alongside Very Peri makes an instant impact. Gray suiting remains popular for men, and works well in the wintertime with the right sturdy fabric.
For bridesmaids we love mixing shades of purples, grays and pinks. Select similar dress patterns and fabrics to achieve a cohesive look.
Just the Details
You may want other colors to dominate your wedding decor and leave Very Peri only in the details. That works just as well.
This adventurous and flexible color can blend into the background and give subtle hints of a snowy, purple look in bridal accessories or small floral additions. A small boutonniere or a dress may be all you need to bring in this color, while letting the rest of the color scheme shine.
Florals? For Winter? Groundbreaking.
Just because you're having a winter wedding, doesn't mean you can't go big on floral! 
Creamy white flowers are perfect for anchoring the look of your winter wedding bouquet. Add as much or little color you want in Very Peri, soft pinks, and subtle greenery. 
And keep in mind, just because you go for a white dress doesn't mean cream flowers won't work. Bring in enough other colors and the look will be pulled together, not mismatched.
Lush Tablescapes
In our opinion, winter weddings are best full of luxe details.
Shiny silk or satin tablecloths exude comfort and class. Crystals work especially well for winter weddings as they evoke images of icicles and snow. Metallic details also work great alongside our winter color palette and add extra glam.
The Statement Entrance
Bring your Very Peri winter color palette together with a go-big or go-home statement entrance.
Bathed in the gray or cream we selected, draped fabric goes a long way in announcing the bride is here and the show is ready to go on. Add candles in pillars, candelabras or lanterns depending on your overall style. Wintery trees, whether large or small, complete the winter wedding look – even if the sun is shining outdoors.
And as we mentioned – don't forget the floral! Nothing beats piles of flowers adorning the aisleway.